LC-Floats: Near Real-time Hydrography and Deep Velocity in the Loop Current System using Autonomous Profilers
Amy Bower (WHOI), Steve Jayne (WHOI), Heather Furey (WHOI). Collaborator: Paula Perez-Brunius (CICESE)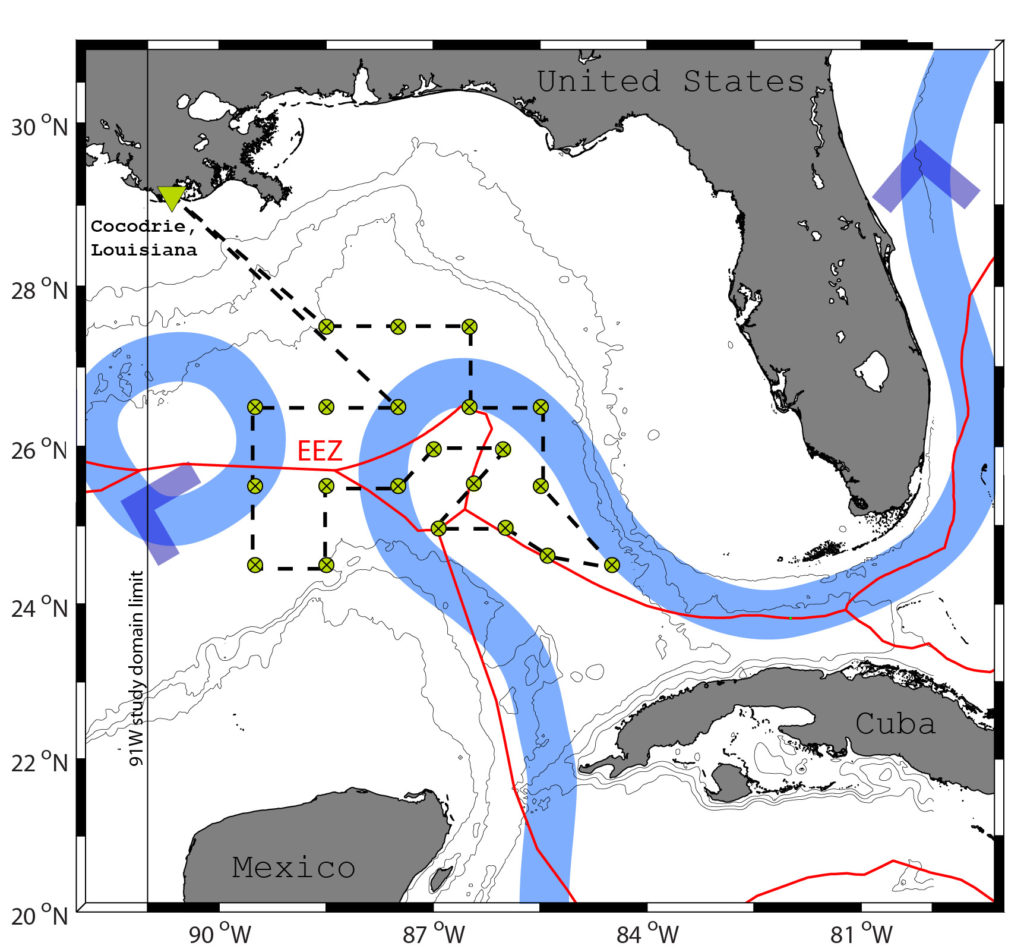 A fleet of 20-25 autonomous profilers deployed in the Loop Current System (LCS) active area in the eastern Gulf of Mexico are part of the NAS Understanding Gulf Ocean Systems campaign, and provide publicly-available near-real-time data to weather forecast models to aid in hurricane prediction. These data are also being used in conjunction with c-PIES data to explore the physical mechanism of Loop Current expansion into the Gulf and subsequent Loop Current Ring formation. Read MoreRead Less
These Argo-equivalent floats drift at 1500 m and measure temperature and salinity from the sea surface to 2000 m every five days, generating 120-150 profiles and deep velocity measurements every month. These instruments are considered standard Argo floats, and all data is being made publicly available in near-real time (within 24 hours) and in final form (within 6-12 months) via the Global Telecommunications System (GTS) and global Data Assembly Center (GDAC). The project team includes U.S. and Mexican scientists with deep end-to-end experience in the use of floats for oceanographic studies in the Gulf of Mexico and worldwide, from procurement, ballasting and communications, to calibration, data processing and data delivery, to scientific analysis and publication of results. The profile and velocity data collected by this fleet of profilers will be valuable to scientists and forecasters in numerous ways, such as stated above: for data assimilation and Loop Current prediction, weather and hurricane forecasting, as well as deep oil spill tracking. Additionally, the team will generate statistical data products for comparison with past LCS studies and to assist with planning the long-term LCS campaign.
WHOI-Argo webpages of the floats deployed to date:
Cruise 1, June 2019, R/V Pelican:
( 9 floats deployed, 8 successful )
7491 7492 7540 7541 7542 7544
7545 7568
Cruise 2, September-October 2019, R/V Pelican:
( 12 floats deployed, 12 successful )
7495 7499 7513 7518 7556 7557
7559 7560 7561 7577 7584 7586
Cruise 3, September-October 2020, R/V Pelican:
( 4 floats deployed, 4 successful )
7519 7543 7538 7549
Cruise 3, May 2021, R/V Pelican:
( 4 floats deployed, 4 successful )
7618 7622 7623 7624
Funding
This project is generously funded by the National Academy of Sciences.

LC-Floats float missions changed to higher sampling frequency during 2021 hurricane season.
Image from 30 August 2021, Hurricane Ida. http://argo.whoi.edu/solo2/h21_status.html