Projects
Accelerating Thwaites Ecosystem Impacts for the Southern Ocean (ARTEMIS)
During the 2022 ARTEMIS expedition, researchers traveled to western Antarctica to study current environmental conditions in the Amundsen Sea including the impacts of melting from the Thwaites Glacier.
The Thwaites Glacier and Pine Glaciers are two of Antarctica's five largest glaciers. The ice sheet that drains into the Amundsen Sea averages about 3 kilometers or 1.9 miles in thickness and is roughly the size of the state of Texas.
Recent studies through satellite and airborne surveys have shown a significant thinning of the Amundsen Sea Embayment (ASE) due to shifts in wind patterns that allow warmer waters to flow beneath the ice sheet. If the Thwaites and Pine Glaciers were to melt completely, it's been predicted that global sea levels would rise by about 0.9 to 1.9 meters. The loss of these glaciers could destabilize the entire West Antarctic ice sheet and possibly sections of the East Antarctic Ice Sheet.
Researchers aboard the R/V Nathaniel B. Palmer characterized spatial, seasonal, and inter-annual patterns through remotely-sensed chlorophyll. Daily satellite ocean color images were taken. Seawater samples were also collected and evaluated for chlorophyll, nutrients, and the CO2 system. Real-time remote sensing data (chlorophyll, particulate organic carbon, sea surface temperature, sea ice cover, sea surface height, and surface geostrophic velocities) was provided for adaptive sampling. Together with model-data comparisons of surface chlorophyll, this data will provide a better overall view of the current environmental conditions in western Antarctica.
Funding Agency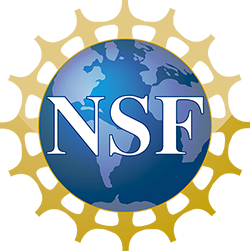 Collaborators
The University of Georgia (Patricia Yager)