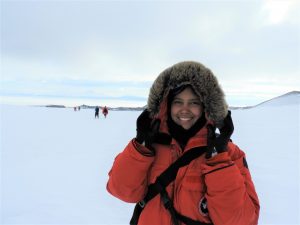 Melisa Diaz, PhD
Postdoctoral Scholar
Geology and Geophysics
Applied Ocean Physics and Engineering

Download my CV
Contact Information:
Work: 508-289-1234
mdiaz@whoi.edu
Building: Clark
Mailing Address:
266 Woods Hole Road, MS #24
Woods Hole Oceanographic Institution
Woods Hole, MA 02543
Research Interests
I am an interdisciplinary scientist and use analytical geochemistry as a tool to bridge physical, biological, and social sciences. My core research focuses on the geochemistry of ice-free and ice-covered environments in both the Arctic and Antarctic and applying this knowledge towards understanding landscape development, biogeography, and habitat suitability throughout the Solar System. I am particularly interested in research within the following themes:
How does the geochemistry of soil and ice environments in the polar regions influence ecosystem development and habitat suitability on Earth and within the Solar System?
What are the current, past, and future effects of global change on resource-limited arid environments?
How do natural systems, urban geochemistry, and equity intersect?
How have anthropogenic processes perturbed biogeochemical cycles?
Selected Publications
Diaz, M.A., Li, J., Michalski, G., Adams, B.J., Wall, D.H., Hogg, I., Fierer, N., Gardner, C.B., Lyons, W.B. (2020). Stable isotopes of nitrate, sulfate, and carbonate in soils from the Transantarctic Mountains, Antarctica: A record of atmospheric deposition and chemical weathering. Frontiers in Earth Science special issue: Novel Isotope Systems and Biogeochemical Cycling During Cryospheric Weathering in Polar Environments 8(341). https://doi.org/10.3389/feart.2020.00341.
Diaz, M.A., Welch, S.A., Sheets, J., Welch, K.A., Adams, B.J., Khan, A.L., McKnight, D.M., Cary, S.C., Lyons, W.B. (2020). Geochemistry of Aeolian Material from the McMurdo Dry Valleys, Antarctica: Insights into Dust Sources. Earth and Planetary Science Letters 547: 116460. https://doi.org/10.1016/j.epsl.2020.116460.
Diaz, M.A., Adams, B.J., Welch, K.A., Welch, S.A., Opiyo, S., Khan, A.L., McKnight, D.M., Cary, S.C., Lyons, W.B. (2018). Aeolian Material Transport and its Role in Landscape Connectivity in the McMurdo Dry Valleys, Antarctica. Journal of Geophysical Research: Earth Surface. https://doi.org/10.1029/2017JF004589.
Awards
WHOI Postdoctoral Scholar
National SACNAS Chapter Award - Outstanding Prof. Development (Ohio State Chapter President)
Women of Color Advancement Grant
Geological Society of America Student Research Grant
International Association of Geochemistry Student Grant
National Science Foundation Graduate Research Fellowship (NSF GRFP)
Education
Ph.D.: Earth Science. 2020. The Ohio State University, Columbus, OH.
M.S.: Earth Science. 2017. The Ohio State University, Columbus, OH.
B.S.: Earth and Environmental Science. 2014. University of Rochester, Rochester, NY.
Biography
I am working under Drs. Sarah Das and Chris German in G&G and Dr. Catherine Walker in AOP&E. Despite being Caribbean-American, I love the cold, and have incorporated my affinity for icy environments into my research. My favorite research site is the Shackleton Glacier, Antarctica, which is (objectively) one of the most beautiful environments on Earth. I am an avid juggler and enjoy playing soccer, hiking, rock climbing, and snowboarding in my free time.