Polar research in the Laney lab
Advancing remote sensing insight into coastal sea ice ecosystems
Collaborators:
Dr. Ted Maksym, Applied Ocean Physics and Engineering Department, WHOI
Dr. Steve Okkonen, Institute for Marine Science, University of Alaska Fairbanks
Dr. Krista Longnecker, Marine Chemistry and Geochemistry Department, WHOI
With support from NASA's Interdisciplinary Research in Earth Science program (IDS) we are examining how different satellite remote sensing properties can be used to gain insight into spatial and temporal differences in sea ice ecosystems in the coastal Arctic. Our team includes expertise in sea ice, ecology, biogeochemistry, and physical oceanography, all relevant to addressing these interdisciplinary questions. In late winter and early spring of 2022 we will conduct an on-ice field campaign to better constrain remote sensing interpretations from a study region spanning the Alaskan Arctic coastal margin. An overall goal for this project is to provide new directions for using available satellite remote sensing tools to study the rapidly changing coastal Arctic margin.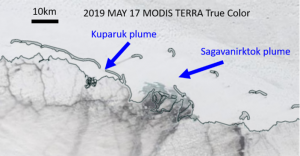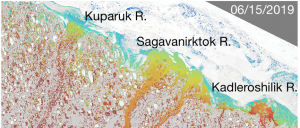 Riverine transport of organic carbon into the Alaskan Arctic
Collaborators:
Dr. Steve Okkonen, Institute for Marine Science, University of Alaska Fairbanks
Dr. Krista Longnecker, Marine Chemistry and Geochemistry Department, WHOI
Dr. Dariusz Stramski, Marine Physical Laboratory, Scripps Institution of Oceanography
With support from NASA's Carbon Cycle and Ecosystems (CCE) program we are nearing the end of a study that examines how the spring freshet contributes dissolved and particulate organic carbon into Alaskan Arctic coastal margins. Between 2017 and 2019 used a combination of open-water small boat cruises (summer) and on-ice field campaigns (spring) to sample the outputs of the Sagavanirktok and Kurparuk Rivers near Prudhoe Bay Alaska. A long-term goal for this project is to also develop robust technologies for instrumenting these challenging ocean regions. We are helped tremendously by field support from British Petroleum's environmental office in Anchorage.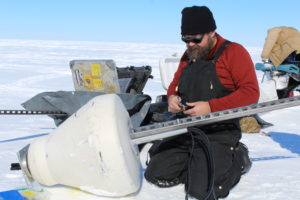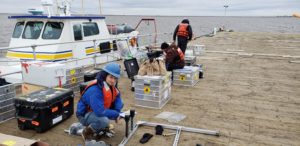 Sea ice trials of RV Sikuliaq
Collaborators:
Dr. Carin Ashjian, Biology Department, WHOI
Dr. Steve Okkonen, University of Alaska Fairbanks
In 2015 I was on the science team that helped the brand-new RV Sikuliaq conduct its sea ice trials in the Bering Sea. Our job was to provide training for the new ship to get its crew up to speed on the types of science operations that it would be expected to perform in the upcoming years when in service.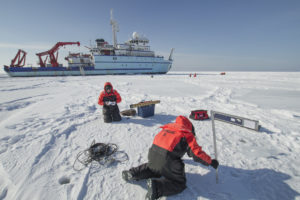 Phytoplankton assemblage structure in polar waters
Collaborators:
Dr. Heidi Sosik, WHOI Biology Department
Dr. Kevin Arrigo, Stanford University (ICESCAPE PI)
Quick link: IFCB8 data portal (for high-latitude WHOI IFCB data)
With support from NASA and WHOI's Arctic Research Initiative I have developed and fabricated a seagoing Imaging FlowCytobot (IFCB) for use on polar research ships. In 2010 and 2011 it was used in the Bering and Chukchi Seas in the NASA ICESCAPE program on the icebreaker USCGC Healy. I used this system to collect millions of images of individual microphytoplankton cells and chains over long transits to, from, and within the study region. This instrument was also used to examine algal and protist assemblage composition in ice cores, ice ponds, and under-ice water samples. A long-term goal for these data is to understand better the spatio-temporal variability of phytoplankton assemblage structure in Arctic waters. In addition to the two ICESCAPE cruises, this system has been used on HEALY in three other Chukchi/Bering cruises, at other times during the year.
In 2011 this instrument was used in a similar fashion on a CLIVAR cruise from McMurdo Station to Punta Arenas, Chile, on the RVIB Nathanial B Palmer. This unusually long cruise provided exceptionally valuable data regarding the microphytoplankton assemblage distribution over a wide swath of the Southern Ocean.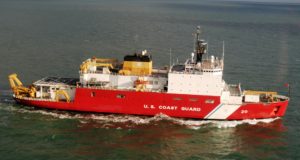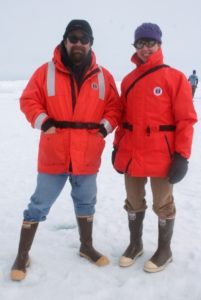 Improving the use of satellite ocean color data in Arctic coastal ecosystems
Collaborators:
Dr. Heidi Sosik, WHOI
Dr. Lisa Eisner, NOAA Auke Bay Laboratory, Juneau AK
The goal of this research was to make ocean color data a more robust component of Arctic observational networks. This project combined novel field observations in the eastern Chukchi Sea with a computer modeling study, to examine how ocean color algorithms in the Arctic can be improved by better addressing some of the basic optical differences in Arctic waters. A joint modeling-observational approach like this one provided guidance for determining what measurements or regions should be given the highest priority in Arctic observation systems to better ground-truth the ocean color data that are being currently collected. This research also evaluated the use of alternate bio-optical algorithms for the Arctic, which have been proposed in the past but which have not been examined in detail because the optical field observations needed to evaluate them have been lacking. This study was supported in part by the WHOI Arctic Research Initiative. This project is supported by WHOI's Arctic Research Initiative.