What is the MISO Facility?
Multidisciplinary Instrumentation in Support of Oceanography
The intent of establishing the Multidisciplinary Instrumentation in Support of Oceanography (MISO) Facility at WHOI is to provide an adequate pool of commonly used and essential digital imaging equipment and associated sensors and acoustic transponders for various large-scale experiments and programs in the ocean sciences, primarily the Ridge 2000 Program but with the clear intent that other programs and funding agencies (e.g., NOAA, NSF-MARGINS, USGS) would benefit from having easy access to certain types of oceanographic sensors and tools. Part of the approach is to ensure that adequate technical support is available to maintain the equipment pool and mobilize/demobilize it when needed by scientists and provide operational expertise for use of the equipment.
The National Science Foundation's Ocean Sciences Division, Marine Geology & Geophysics and Oceanographic Instrumentation Programs have continued to fund the basic operation of the MISO Facility for another 5 years, commencing in 2007, through a research grant (NSF-OCE0649621).
MISO currently has a variety of instruments available for use including:
» The WHOI Digital Towed Camera Systems (TowCams)
» MC-800 Multicorer with MISO real-time camera & CTD
» Marine BGM-3 Gravimeters
» Marine Magnetometer
» Deep-sea Digital Time-lapse Camera Systems
» DSPL deep-sea 3.3 megapixel Digital Cameras for use on research submarines and ROVs
» High Temperature Loggers
» DSPL Sea Batteries for 24VDC subsea power
» On/off, mechanical Deep-Sea Switches for use with seafloor instruments
The links provide access to detailed technical information, logistics, and cost estimates involved in using MISO Facility equipment.
» View information about MISO Facilty Instrumentation
An on-line request form is available to request the use and costs associated with an MISO instrument.
» View MISO Facilty Instrumentation Request Form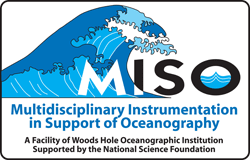 Any questions regarding MISO equipment should be sent to:
Dr. Dan Fornari
Email: dfornari@whoi.edu
Telephone: 508-289-2857
Woods Hole Oceanographic Institution
Geology & Geophysics Dept.
Clark South 172
266 Woods Hole Rd.
Woods Hole, MA 02543 USA