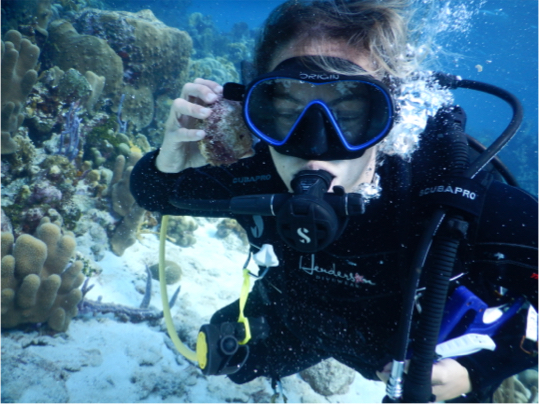 Dr. Ashlee Lillis
Postdoctoral Investigator
Biology Department
Contact Information:
Work: 508-289-3419
Email: ashlee@whoi.edu
Office: Marine Research Facility 239
Mailing Address:
266 Woods Hole Road, MS #50
Woods Hole Oceanographic Institution
Woods Hole, MA 02543
Research Interests
My current research integrates elements of marine benthic ecology, larval ecology, and passive acoustics, utilizing complementary field measurements and lab experiments, to explore inter-related questions across marine ecosystems with a broad emphasis on: (1) larval invertebrate behavioral and settlement responses to habitat cues, and (2) the causes and effects of marine soundscape variability.
As a marine ecologist with a focus on the planktonic early life stages of marine invertebrates, I examine the connections between processes occurring at small and large spatiotemporal scales to mechanistically explore the influence of environmental factors on the dynamics of benthic populations and communities. Evidence is mounting that the underwater soundscape, the distinct sounds that emanate from habitats and contain information about their biological and physical characteristics, may serve as a broad-scale environmental cue for diverse taxa of marine larvae to locate and select settlement sites. 
Selected Publications
Lillis, A., Perelman, J.*, Panyi, A.* & Mooney, T.A. (2017) Sound production patterns of big-clawed snapping shrimp (Alpheus spp.) are influenced by time-of-day and social context. Accepted. Journal of the Acoustical Society of America
Lillis, A. & Mooney, T.A. (2016) Loudly heard, little seen, and rarely understood: Spatiotemporal variation and environmental drivers of sound production by snapping shrimp. Proceedings of Meetings on Acoustics 27: 010017, http://dx.doi.org/10.1121/2.0000270
Lillis, A., Bohnenstiel, D., Peters, J.W.*, & Eggleston, D. (2016) Variation in habitat soundscape characteristics influences settlement of a reef-building coral. PeerJ 4:e2557 https://doi.org/10.7717/peerj.2557
Ricci, S.W.*, Eggleston, D.B., Bohnenstiehl, D.R., & Lillis, A. (2016) Temporal soundscape patterns and processes in an estuarine reserve. Marine Ecology Progress Series 550:25-38.
Bohnenstiel, D.R., Lillis, A. & Eggleston, D.B. (2016) The Curious Acoustic Activity of Estuarine Snapping Shrimp: Temporal Patterns of Snapping Shrimp Sound in Sub-tidal Oyster Reef Habitat. PLoS ONE. 11(1): e0143691. doi:10.1371/journal.pone.0143691
Lillis, A., Eggleston, D.B. & Bohnenstiehl, D.R. (2014) Soundscape variation from a larval perspective: the case for habitat-associated sound as a settlement cue for weakly swimming larvae. Marine Ecology Progress Series 509: 57-70. 10.3354/meps10917
Lillis, A., Eggleston, D.B. & Bohnenstiehl, D.R. (2014) Estuarine soundscapes: distinct acoustic characteristics of oyster reefs compared to soft-bottom habitats. Marine Ecology Progress Series 505: 19-28. *Feature Article
Lillis, A., Eggleston, D.B. & Bohnenstiehl, D.R. (2013) Oyster larvae settle in response to habitat- associated underwater sounds. PLoS ONE 8(10): e79337.
*student co-author
Education
Ph.D.: Marine Science. 2014. North Carolina State University, Raleigh, NC, USA.
M.Sc.: Biology. 2009. Ocean Sciences Centre, Memorial University of Newfoundland, St. John's, NL, Canada.
B.Sc. (Hons.): Oceanography & Biology. 2005. University of British Columbia, Vancouver, BC, Canada.
Biography
Despite growing up far from the coast, at the foot of the Rockies in Canada, I developed a passion for exploring the sea after learning to scuba dive at a young age. An early research experience as an undergraduate at UBC in Vancouver ignited my fascination with the tiny planktonic early life stages of marine invertebrates. Since then, my research has taken me from cold oceans to coral reefs to the deep sea, and has expanded to explore the roles of underwater sound in larval settlement and marine communities. Diving remains integral to my connection to the undersea environment, and to my science - some of my best thinking is done underwater!