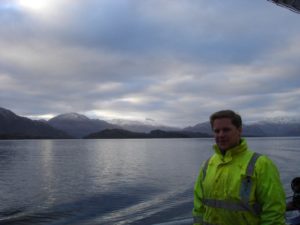 Dr. Carl L. Kaiser
Program Manager
Applied Ocean Physics and Engineering

Download CV
Contact Information:
Work: 508-289-3269
ckaiser@whoi.edu
Building: Blake
Mailing Address:
266 Woods Hole Road, MS #07
Woods Hole Oceanographic Institution
Woods Hole, MA 02543
Research Interests
My interests primarily relate to the interaction of "autonomous" vehicles and humans.  No system yet built is truly autonomous throughout it's life cycle even if there are intervals of limited or no communication with humans.  I have a particular interest in how autonomy and humans interact when the vehicle, the human, or both are under water.
Students
Lt CDR Andrew Cole, USN - Navy Joint Program Master's student - Anticipated Graduation June 2019
Education
Ph.D.: Mechanical Engineering. 2009. Colorado State University, Fort Collins, CO.
M.S.: Mechanical Engineering. 2006. Colorado State University, Fort Collins, CO.
B.S.: Mechanical Engineering. 2004. Colorado State University, Fort Collins, CO.
Biography
Carl L. Kaiser, Program Manager, holds a B.S, M.S., and PhD in Mechanical Engineering (Robotics) from Colorado State University.  He has previously held positions at Colorado State University and Agilent Technologies and is currently a Program Manager in the Applied Ocean Physics and Engineering Department at Woods Hole Oceanographic Institution.  He manages the AUV portion of the National Deep Submergence Facility as well as numerous other operations and technology development projects at WHOI including for NSF, NOAA, ONR, the state of Massachusetts, private industry, and philanthropic organizations.  His research interests include novel applications for AUVs, human robot interaction via limited or degraded communication channels, and integration of robotic technologies into human activities.