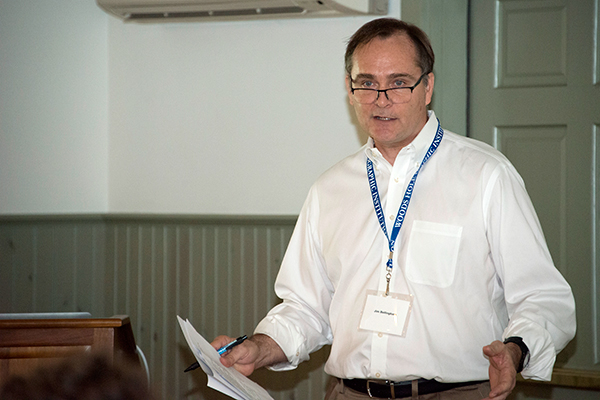 James Bellingham  Ph.D.
508 289-3415 | jbellingham@whoi.edu
James G. Bellingham is the founding Director of the Consortium of Marine Robotics at the Woods Hole Oceanographic Institution (WHOI). Dr. Bellingham joined WHOI from the Monterey Bay Aquarium Research Institute (MBARI), where he was first Director of Engineering and then Chief Technologist. Prior to MBARI, Jim founded the Autonomous Under water Vehicles Laboratory at MIT Sea Grant (1988) and co-founded Bluefin Robotics (1997 ). Bluefin is a Massachusetts-based company that develops, builds and operates autonomous underwater vehicles (AUVs) and was acquired by Battelle in 2005. Jim's research activities revolve around creation of autonomous marine robots and their use at sea. He pioneered the development of small, high performance Autonomous Underwater Vehicles (AUVs), resulting in a class of systems which are now widely used within the military, industry and scientific communities. He was instrumental in developing and demonstrating distributed system approaches to ocean observing, leading the Autonomous Ocean Sampling Network program which coupled fleet s of AUVs to ocean models to observe and predict ocean conditions. Jim has spent cons iderable time at sea, leading over 20 AUV expeditions in locations such as the Antarctic, North Atlantic, Mediterranean, South Pacific, and the Arctic. He has served on numerous advisory committees and boards, including Chairing the Naval Research Advisory Committee and serving on several National Academies studies. His awards include the Lockheed Martin Award for Oc ean Science and Engineering and the MIT Fourteenth Robert Bruce Wallace lecturer. Jim received an B.S., M.S., and Ph.D. in physics from the Massachusetts Institute of Technology.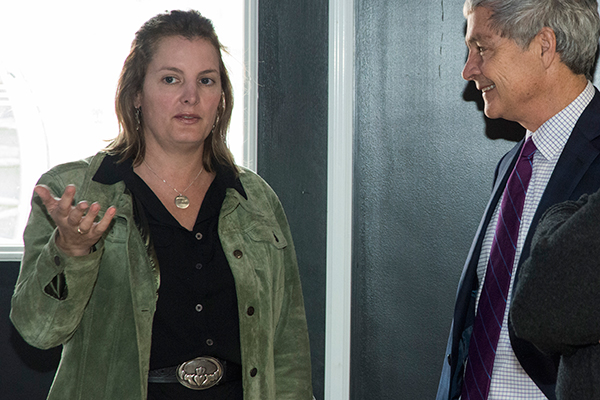 Leslie-Ann McGee
508 289-2712 | lmcgee@whoi.edu
As a management team with Dr. Jim Bellingham, McGee is responsible for developing strategic vision and leadership, managing external relations and partnerships and retaining primary responsibility for organizational and program management of CMR. She provides leadership on customer relationship management for industrial clients and government sponsors and supports CMR Director in incubation of a robust robotics program at WHOI. Ms. McGee, among other projects, manages the "Robots to the Sea" project, a partnership to drive innovation in marine robotics between WHOI and the Commonwealth of Massachusetts. She is an expert in ocean and coastal issues in both the domestic and international arena and has a diverse background working with and for state, regional, national, business, and environmental entities globally. She has direct experience working as regulatory staff within the federal and state government and has contributed to protecting marine ecosystems through innovative applications of law and policy. She has successfully partnered with interest groups, industry members, private non-profits, and other stakeholders to form cohesive management strategies by communicating regularly with a wide variety of people with often conflicting perspectives. She also maintains a consulting practice through her firm, Full Sail Consulting based in Kingston, Mass. McGee served as the Director of Coastal Zone Management for the Commonwealth of Massachusetts. In addition, McGee was the Director of Programs for the World Ocean Council, Director of Ocean and Coastal Solutions at Battelle Memorial Institute and held state and federal positions with NOAA, the New England Fishery Management Council and the Mass. Department of Fish and Game. McGee is a graduate of the University of Colorado at Boulder and Duke University's Nicholas School of the Environment. She conducted her graduate research on Bluefin Tuna at the New England Aquarium.
Gretchen McManamin
508 289-2292 | gmcmanamin@whoi.edu
Gretchen McManamin is an Administrative Associate in the Applied Ocean Physics and Engineering Department. She supports the administrative side of the Center for Marine Robotics at the Woods Hole Oceanographic Institution (WHOI). Ms. McManamin has over 36 years of experience at WHOI and is responsible for maintaining the Center Director's calendar. She is also responsible for the organization and coordination of all meetings, large and small, related to the Consortium for Marine Robotics. She works with individuals from within the department and other departments within WHOI to put together the meeting agenda. In addition, Ms. McManamin also supports a number of other scientists and technical staff within the department.
CMR Advisory Board
Gary Roughead (Chairman)
WHOI Trustee, former Chief of Naval Operations
James Cameron
Academy Award winning screen writer, director and producer, and deep sea expedition leader.
Larry Clark
WHOI Trustee, President, Deerbrook Charitable Trust, former Director of Division of Ocean Sciences, NSF
Michael Connor
President and CEO, ThayerMahan, Inc.; Former commander of US Submarine Force
Joseph Downing
Senior Advisor for the Innovation Institute at the Massachusetts Technology Collaborative
David Mindel
Professor Aeronautics and Astronautics, Dibner Professor of the History of Engineering and Manufacturing, Director Laboratory for Automation Robotics and Society, MIT
Ken Morse
Founder, Chairman & CEO, Entrepreneurship Ventures
Hagen Schempf
Principal Systems Scientist, Carnegie Mellon Robotics Institute, and Director of Hazardous Environments Robotics Lab.
Jean Tempel
WHOI Trustee, Managing Director, First Light Capital, Director, Sonesta International Hotels and Dana Farber Cancer Institute
Chuck Thorpe
Provost, Clarkson University, former Assistant Director, Advanced Manufacturing and Robotics, OSTP, former Director of Carnegie Mellon Robotics Institute and dean CMU, Qatar
John Tylko
Vice President of Business Development, Aurora Flight Sciences
Charlie Young
Director SCRA Applied R&D; former VP, Strategic Business Planning, Oceaneering ADTECH; Former Director, Strategic Systems Programs