Science in an unusual time
Like most other Americans, and many people around the world, I've been "sheltering in place" for a couple of weeks now. I'm still getting used to this enormous change…just a few weeks ago, I was struggling to keep up with the hustle and bustle of daily life, and now…well, things look a lot different.  I'm very impressed by the actions taken by our WHOI senior leadership. They showed foresight and wisdom in implementing travel advisories and restrictions and greatly limiting on-site work. We've all learned a lot very quickly about the pro's and con's of various virtual meeting platforms. Without minimizing this very serious global crisis, I'm also enjoying a reduction in the amount of time I spend in daily meetings. In my "normal" professional life, it can be hard to find time for quality thinking. I have some time now, and am hoping to put it to good use. As I've dug into some of the projects that require "deep thinking," I've been reminded that deep thinking is hard!
A few things I wouldn't have predicted I would be doing:
Last week, I packed up all our unopened boxes of lab gloves and donated them to our local hospital.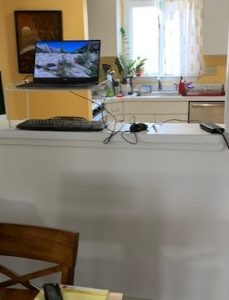 This week I decided that all the time I've been spending curled up on my couch with my laptop isn't good for my posture. I'm working on improvising a standing workstation. I've never tried a standing desk before, but I guess this is a particularly good time to try new things. My first "prototype" (below) doesn't seem perfect, but it's a start.
And the quirkiest adaptation I've made…
I've been continuing to go into the lab occasionally to maintain our Nematostella cultures. To reduce the risk to myself and others, I'm only going in twice a week. To make this possible, I've been culturing brine shrimp in my spare bathroom! I'm wondering if I'm the only person in Massachusetts (the US? the world?) with a brine shrimp culture in my bathroom.
Strange times. Stay safe out there my friends!