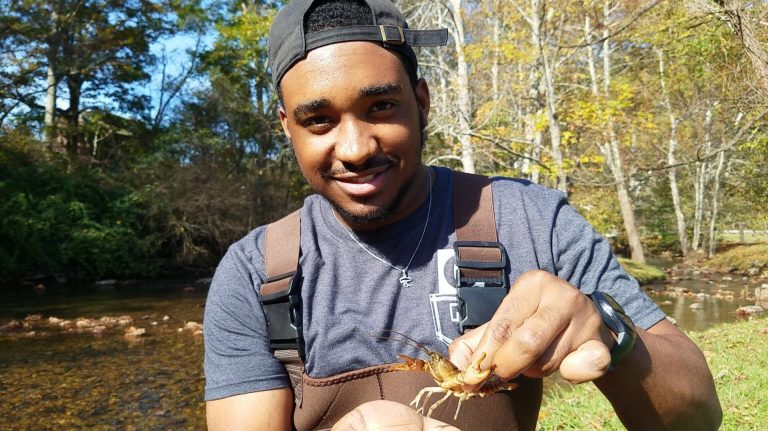 I'm delighted to introduce our newest lab member, Isaiah Milton, who will be joining our lab this summer through the Woods Hole Partnership Education Program.
Isaiah just finished his junior year at Hampton University, where he is majoring in Marine and Environmental Science. At his home institution, Isaiah works in a genetics lab researching microRNAs in the gill tissue of the blue crab to use as a biomarker for the health of the species. He has also worked on research projects at the University of Maryland Eastern Shore looking at pathogenic bacteria strains of the genus Vibrio in blue crabs and seawater of the Maryland Coastal Bays. He has also conducted researcher through University of California, Los Angeles at the Mo'orea Coral Reef (MCR) Long-Term Ecological Research (LTER) site looking at how structural complexity of coral reefs affect reef ecosystem functions. In his spare time outside the lab, Isaiah likes to explore and draw nature, cook, read, travel, and participate in outreach events through the Hampton University chapter of the SEEDS Ecology Club.
Isaiah and I have a couple of potential projects in mind this summer. He will spend some of his time conducting studies related to our NSF-sponsored project on daily physiological rhythms in migratory zooplankton. Isaiah will likely make a visit to the Bermuda Institute of Ocean Sciences, where he will contribute to a key set of experiments in support of this project. Our current plan is to measure how zooplankton metabolic rates vary with temperature. We have some expectations of what we are likely to see…as a rule of thumb, metabolic rates roughly double when you increase the temperature by 10°C. Within this project, we are trying to understand how zooplankton metabolism varies in space and time over the course of the day…we need to do better than using a rule of thumb. Sometimes there is no substitute for doing an experiment! Isaiah may also help us to develop a new project idea in the lab. I've become very interested in the diversity of Acartia copepods. They are complicated little critters…the different species are hard for me to tell apart (I'm learning), and it turns out that there are cryptic species that are hard for everyone to tell apart! Copepods within different "cryptic species" may look identical, but they are genetically very different. We know very little about their biological differences. I'm wondering if they might have differences in their dormancy behavior and if we can use those differences to help us learn more about how dormancy is regulated in copepods. This is a very new idea for us, but it could be interesting to explore.