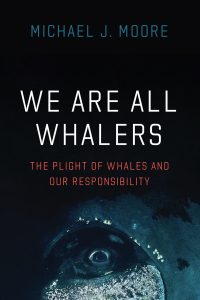 Why I wrote this book: For the past twenty-five years I have been privy to the trauma that North Atlantic right whales suffer when ships collide with them, and they get entangled in fishing gear. For those that die, I have documented how fatal trauma occurred. For those that survive we have been learning what that means in terms of reduced calving success. My colleagues and I have written academic papers and book chapters, and made presentations at scientific meetings. But none of that has adequately communicated the needed remedies to those that can really make a difference: to the people whose voting, and purchasing behavior can enable ethical consumption of shipped goods and seafood that allows both industries and whales to thrive. The goal of this book is to help consumers understand what is going on, and what they can do about the problem. Actively demanding truly sustainable seafood. Telling your representatives how much you genuinely care to purchase goods and seafood that have been obtained sustainably.
Buy: We Are All Whalers.   Additional Reading : How We All Kill Whales  Ropeless Fishing
Interview with Mindy Todd – WCAI The Point – We Are All Whalers
Book readings and talks New Bedford Whaling Museum and Woods Hole Oceanographic Institution
Doug Fraser  – Cape Cod Times 12/3/2021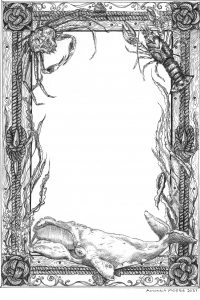 Amanda Moore kindly drew this plate for the book. You can copy, print and paste it into the front of the book if you wish. We tried to gather the theme of co-existence of American lobster and snow crab fisheries with the albeit, sad and rather skinny right whale seemingly at the end of its rope, but hopefully soon to recover in all its full and fat glory, with many calves to come.
Reviews of We Are All Whalers
The threat to whales goes beyond the conventional images of harpooning ships, according to this moving and impassioned debut from veterinarian and marine scientist Moore. "The very survival of the species is in our hands," he argues, and the problem comes down to industry—commercial seafood fishing accounts for numerous whale deaths each year, as the animals get caught in nets and ropes, and "even vegetarians contribute to the problem, as we all benefit from global shipping of consumer goods and fuel, which, in its current iteration, leads to fatal collisions with whales." Moore injects his descriptions of the dire situation with a personal angle, sharing stories about how he came to study and care passionately about whales, creatures with awe-inspiring intelligence and social skills but whose population is threatened by humanity: between 2017 and 2020, he writes, the number of North Atlantic right whales declined by 10%. Technology offers a ray of hope—in his final chapter, Moore describes how using ropeless nets for commercial fishing and studying whale population movements can prevent accidental collisions and lessen the death toll. This empowering call to action stuns.
After the world spent more than two centuries slaughtering whales to the point of near-extinction, international commercial whaling was finally banned in 1986. But in this highly persuasive book, the marine scientist Moore demonstrates that many of the gains are being undone by a combination of commercial fishing (in which whales are strangled with ropes and nets) and shipping (whales are often hit by passing cargo ships, and their songs are drowned out by the incessant drum of engines). The North Atlantic right whale's population, for instance, has declined more than 20% since 2017. It's not all doom and gloom, though: Moore (not to be confused with the filmmaker of the same name) furnishes solutions while sounding the alarm.
Moore, a marine scientist and veterinarian, makes a compelling argument that whales' survival depends on each of us — not just on those who venture out on ships, hunting whales for meat and blubber. It's sobering to grapple with the ways we might unwittingly contribute to the mammals' demise, like by eating commercially caught seafood. But Moore also offers reason to be hopeful, including new technologies for ropeless fishing.