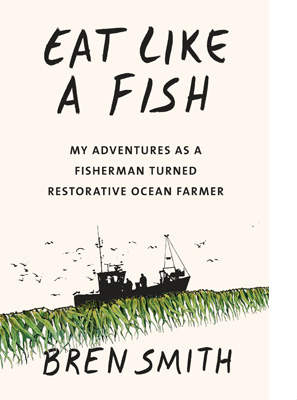 Kelp Recipes
This recipe is featured in a book "Eat like a Fish" by Bren Smith.  Its a recipe by Brooks Headley that sold out at his New York hole-in-the-wall restaurant Superiority Burger every night.
1 white onion, chopped small dice
2 cloves garlic, thinly sliced
2 cups water ½ cup maple syrup
½ cup tomato paste
½ cup white wine vinegar
2 tsp. molasses
2 TB. yellow mustard
1 TB. hot sauce (your choice)
salt
freshly ground black pepper
smoked paprika
Sweat the onion and garlic in olive oil until soft. Add rest of the ingredients and simmer slowly until reduced and thickened.
1 pound large carrots, chopped in oblique shape
½ cup olive oil
½ cup labne or greek yogurt
fresh lemon juice
crushed corn chips
bread crumbs
½ pound mustard greens
½ cup fresh kelp ribbons
Roast carrots at 400 degrees with some of the olive oil and salt and pepper until softened and charred around the edges. Toss together with the kelp and BBQ sauce until coated. Top mixture with a dollop of yogurt and crushed corn chips. Dress mustard greens lightly with lemon juice and salt and add to the top of the carrot and kelp mixture. Sprinkle bread crumbs over top and dress with a squirt of olive oil. Serve immediately.
Salmon Recipes
Yield: 4 servings
prep time: 45 minutes
cook time: 20 minutes
total time: 1 hour, 5 minutes
A super easy salmon dish bursting with so much flavor, and it's hearty-healthy too!
Ingredients:
1/4 cup olive oil
2 tablespoons soy sauce
2 tablespoons rice vinegar
2 tablespoons sesame oil
2 tablespoons brown sugar
2 cloves garlic, pressed
1 tablespoon grated fresh ginger
1 tablespoon sesame seeds
4 green onions, thinly sliced
4 (5-ounce) salmon filets
For the Honey Ginger Glaze
2 tablespoons honey
1 teaspoon soy sauce
1 teaspoon sesame oil
1/2 teaspoon Sriracha, or more, to taste
1/2 teaspoon grated fresh ginger
1/2 teaspoon sesame seeds
Directions:
To make the glaze, whisk together honey, soy sauce, sesame oil, Sriracha, ginger and sesame seeds in a small bowl; set aside.
In a medium bowl, whisk together olive oil, soy sauce, rice vinegar, sesame oil, brown sugar, garlic, ginger, sesame seeds and green onions.
In a gallon size Ziploc bag or large bowl, combine ginger marinade and salmon filets; marinate for at least 30 minutes to overnight, turning the bag occasionally.
Preheat oven to 400 degrees F. Lightly coat a 9×13 baking dish with nonstick spray.
Place salmon filets along with the marinade onto prepared baking dish and bake until the fish flakes easily with a fork, about 20 minutes.
Serve salmon immediately with honey ginger glaze.