Come join us!
We invite applications for one or more postdoctoral researchers in the area of environmental metabolomics and/or environmental analytical chemistry. Potential projects include: use of metabolomics to understand the physiology of model marine organisms, comparison of laboratory and field data to infer the contribution of model organisms to marine organic matter cycling, and others. Review of applications will begin November 1, 2021. The complete job listing is available here.
Exciting news: Chemical Currencies of a Microbial Planet
The Center for Chemical Currencies of a Microbial Planet (C-CoMP), which will be based at the Woods Hole Oceanographic Institution (WHOI), is a new Science and Technology Center funded by the National Science Foundation. Liz Kujawinski is the program director, with Mary Ann Moran at the University of Georgia as co-director and research coordinator. The center will integrate research, education, and knowledge transfer activities and support interdisciplinary science teams to close knowledge gaps in the identities and dynamics of molecules that serve as the "currencies" of elemental transfer within marine microbial communities and between the ocean and atmosphere.
Kujawinski lab research topics
The lab combines fundamental work in analytical chemistry, chemical oceanography, microbiology and microbial ecology to elucidate the controls on organic matter composition in aquatic systems. The research can be grouped into three general topics: model organisms, method development, and environmental samples.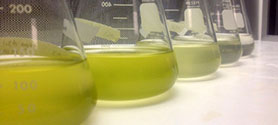 We use laboratory experiments to better understand the metabolic dynamics of cultured marine microorganisms.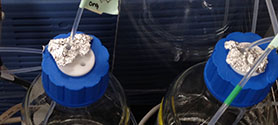 Improving analytical and computational methods for marine organic matter is an ongoing challenge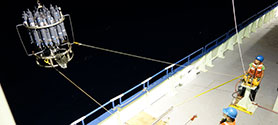 We use field expeditions to characterize the cycling of organic matter in aquatic environments.