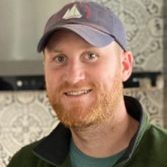 Collin Ward
Assistant Scientist
Collin grew up in Cleveland, Ohio, home to the burning Cuyahoga. He earned a BS and MS in Environmental Sciences from The Ohio State University, and a PhD in Earth and Environmental Sciences from the University of Michigan. He came to WHOI as a postdoc in 2016 and never left.  He is broadly interested in how sunlight and microbes alter the composition and persistence of organic compounds in surface waters. Outside of work he likes to explore with his family, listen to KEXP 90.3 FM, discover tasty food and drink, and dream of the Tribe winning the World Series.
Contact:
Woods Hole Oceanographic Institution
Marine Chemistry & Geochemistry
266 Woods Hole Road
Fye #120, MS #04
Woods Hole, MA 02543
Phone: +1 508 289 2931
Email: cward@whoi.edu
Michael Mazzotta
Postdoctoral Investigator
Mike is a postdoctoral investigator co-advised by Dr. Ward and Dr. Chris Reddy. He grew up in Louisville and earned a BS in Chemistry from Eastern Kentucky University. He then proceeded to earn his PhD in Chemistry at Purdue University. Coming to WHOI in 2018 as a Dreyfus Environmental Chemistry Postdoctoral Fellow, Mike is broadly interested in the microbial world in which we coexist. Mike is working to understand how microbes and sunlight synergistically weather plastics in the ocean. In his free time, Mike enjoys swimming in bioluminescence, painting his favorite enzymes and playing with his dog, Baxter. His favorite hobbit is Bilbo Baggins.
Contact: mgm@whoi.edu
Taylor Nelson
Postdoctoral Investigator
Taylor is a Postdoc of the Ward Lab, co-advised by Chris Reddy. He is originally from Texas, holding degrees in Chemistry and Environmental Engineering from Whitman College and Stanford University, respectively. He has landed at WHOI after finishing a Ph.D. at the Swiss Federal Institute of Technology in Zürich on the environmental fate of biodegradable polyesters in soils, while his current research efforts focus on transformations of consumer plastic products in marine environments. When not in the lab, he enjoys running, visiting the beach, and trying to make new baked goods. His favorite hobbit is Peregrin "fool of a" Took.
Contact: tnelson@whoi.edu
Danielle Freeman
PhD Student
Danielle is a graduate student in the Ward Lab through the MIT-WHOI Joint Program in Chemical Oceanography. Danielle grew up in New York City and attended Bowdoin College, where she completed majors in Chemistry and Hispanic Studies. After graduating, she worked as a teacher before starting grad school. Her research at WHOI focuses on how sunlight exposure alters the chemical composition of oil spilled into the ocean. Outside of research, she enjoys making lasagna, rereading books by her favorite authors (ranging from Jane Austen to Gabriel García Márquez), and writing. Danielle's favorite hobbit is Meriadoc (Merry) Brandybuck.
Contact: dfreeman@whoi.edu
Anna Walsh
PhD Student
Anna is a Joint Program student in Chemical Oceanography co-advised by Dr. Ward and Dr. Chris Reddy. She grew up outside Chicago, then attended Northeastern University, where she completed an independent major in Environmental Health. She also holds a Masters in Environmental Engineering from Yale University. At WHOI, she studies how sunlight affects the fate of plastics in the ocean, with the aim of guiding policy-makers and industry on control measures and mitigation strategies. In her free time, Anna enjoys rowing, cycling by the ocean, and cooking. Her favorite hobbit is Samwise Gamgee.
Contact: awalsh@whoi.edu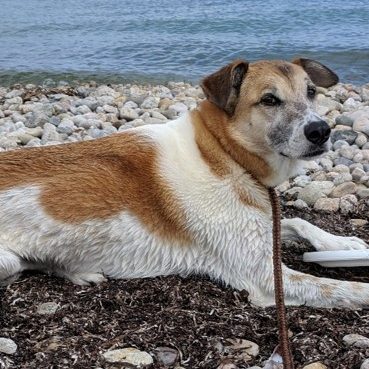 Leonard
Lab Mentor
Leonard (Lenny) is a valued mentor for members of the Ward Lab.  He was born and raised in Michigan, and holds an honorable PhD in Milk Bone Procurement from the WHOI/MIT Joint Program. His diverse research interests include developing and employing analytical techniques to characterize the nutritional content and flavor profile of treats, mechanical testing of chew toys and bones, and classical conditioning of lab members for attainment of belly rubs and table scraps.  In his free time, Lenny enjoys running really fast, swimming in the ocean (if the waves aren't too big), listening to his namesake Leonard Cohen, and taking naps.