Fieldwork on Glovers Reef, Belize
Dr. Konrad Hughen
Senior Scientist
Marine Chemistry and Geochemistry
Contact Information:
Work: 508-289-3353
khughen@whoi.edu
Building: Clark
Mailing Address:
266 Woods Hole Road, MS #25
Woods Hole Oceanographic Institution
Woods Hole, MA 02543
Research Interests
My research generally seeks to reconstruct past changes in climatic and environmental conditions in order to understand the mechanisms of abrupt climate shifts and their impacts on terrestrial and marine ecosystems.  My approach often involves the application of multi-proxy geochemical analyses to coral or sediment archives for extraction of the most information possible.   Ultimately, the goals include identifying the relative timing of rapid shifts in different locations, or reconstructing spatial patterns of variability in complex dynamic systems such as the North Atlantic Oscillation (NAO), El-Niño-Southern Oscillation (ENSO) and Southwest Asian Summer Monsoon (SASM). In addition, I use these techniques to investigate the responses of ecosystems to climate change. Multi-proxy records from sediments show the timing of vegetation changes following rapid shifts in climate. Recent work with corals is investigating the response of coral symbionts to environmental stress including thermal bleaching and exposure to pathogens.
Throughout my career, I have been dedicated to working with students and postdocs, providing research training and opportunities for fieldwork and exposure to the research com-munity at international conferences. ...
Education
Ph.D.: University of Colorado, Boulder - Geological Sciences, 1997
B.S.: University of California, Santa Cruz - Biology and Geology, double major, 1991
Awards and Honors
WHOI Doherty Chair in Education, 2014-2016
NOAA Climate and Global Change Postdoctoral Fellowship, 1997-2000
DOE Alexander Hollaender Distinguished Postdoctoral Fellowship, 1997 (declined)
NASA Earth Systems Science Graduate Research Fellowship, 1995-1997
Univ. of Colorado Doctoral Fellowship, 1991
Expeditions/Research Sites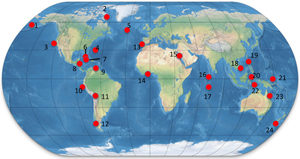 Click on the above image to see a larger map of the Hughen Lab's expeditions and research sites.