Coral symbionts
Corals are foundational marine animals whose persistence within highly nutrient limited waters supports biodiverse reef ecosystems. Corals harbor a complex assemblage of microorganisms and the extent to which particular cells within this community contribute to the functioning of the coral holobiont (the host and microorganisms residing on and within) is still unknown.  My research program on coral microbiomes examines the functions, transmission and maintenance of bacterial and archaeal symbionts of corals.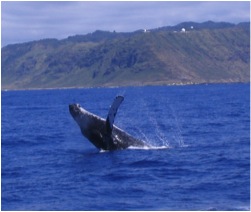 Microbial symbionts of marine mammals
The health of marine mammals is of particular concern, with many of these species residing in human impacted coastlines and frequently stranding on beaches.  We are studying the skin, gut and respiratory bacterial symbionts of marine mammals to learn more about the symbiotic nature and role of these cells, and their potential influence on the health and ecology of these animals.

Reef water picoplankton dynamics
The microbial ecology of coral reefs is increasingly recognized as an important factor contributing to the health of globally threatened coral reef ecosystems, but we understand little about picoplankton dynamics in this environment, and their contribution to the ecosystem.  Our projects include a time-series of reef picoplankton dynamics in St. John, USVI, examining if and how picoplankton utilize coral-produced metabolites to support their growth and researching if picoplankton dynamics within the protected reefs such as Gardens of the Queen, Cuba reflect the unique signatures of this pristine ecosystem.