The METS RCN commenced in 2021, funded by the the National Science Foundation (NSF). Read the full proposal.
This project will support coordination efforts that bring together participants in large- and small group formats to foster the necessary dialog to develop Findable, Accessible, Interoperable, and Reusable (FAIR) data solutions and practices. The project will include a Consensus Building Workshop and METS Data Working Group to develop reference implementations of a data model for adoption by the METS community; formation of regional METS user networks and a Broadening Users Workshop to identify the needs of a broader range of data end users and associated data interfaces and tools to meet those needs; and a Data Hackathon to build capacity to ingest, analyze, and integrate METS data with other disciplinary and cross-disciplinary data to accelerate scientific discovery.
The objectives are to:
This project will develop community consensus for a FAIR METS data model. The METS RCN will leverage the wealth of oceanographic coordination and community building experience and staff capacity of the Ocean Carbon and Biogeochemistry (OCB) Project Office and the infrastructure, expertise, and extensive METS data handling experience of the Biological and Chemical Oceanography Data Management Office (BCO-DMO), along with an RCN Steering Committee that comprises expertise in the fields of oceanography, data science, earth system models, statistics, and data synthesis.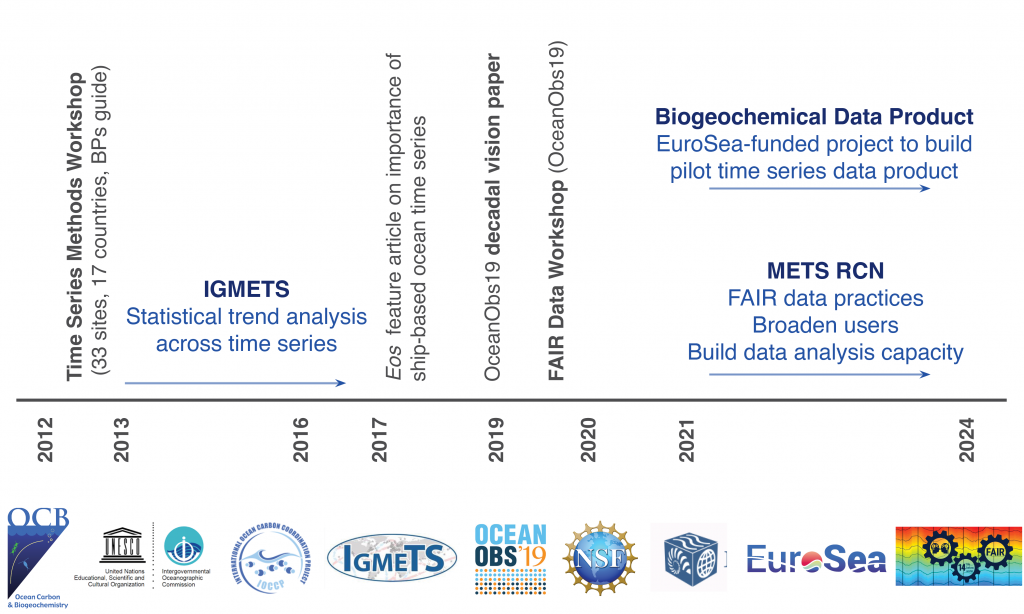 Save the date International Workshop: FAIR Data Practices for Ship-based Ocean Time Series - January 9-12, 2024 (BIOS, Bermuda)
Sustained ocean time series measurements are fundamental to distinguish between natural and human-induced variability in ecosystems and processes required to advance ecological forecasting. Over the past decade the ocean observing community has contributed to numerous efforts and activities in support of building a global network of ocean time series.
A workshop on FAIR Data Practices for Ship-based Ocean Time Series will be held on January 9-12, 2024 at BIOS in Bermuda and will bring together globally distributed ship-based ocean time series representatives who are interested and committed to FAIR data practices with data managers and experts in semantic web technologies with the following objectives:
Share and vet newly drafted biogeochemical and biological use cases for adoption by the broader METS community
Work with participating time series representatives to implement these use cases for their time series programs
Co-develop best practices for responsible use of ocean time series datasets (as a contribution to the Ocean Best Practices System repository)
Share new findings and update recommendations on sampling and analytical protocols from the 2012 Bermuda Time Series Methods Workshop
Explore mechanisms (and identify champions!) for engaging broader stakeholders (managers, educators, etc.) in the use of ocean time series data sets
Start planning (and identify champions!) for an Ocean HackWeek for ocean time series data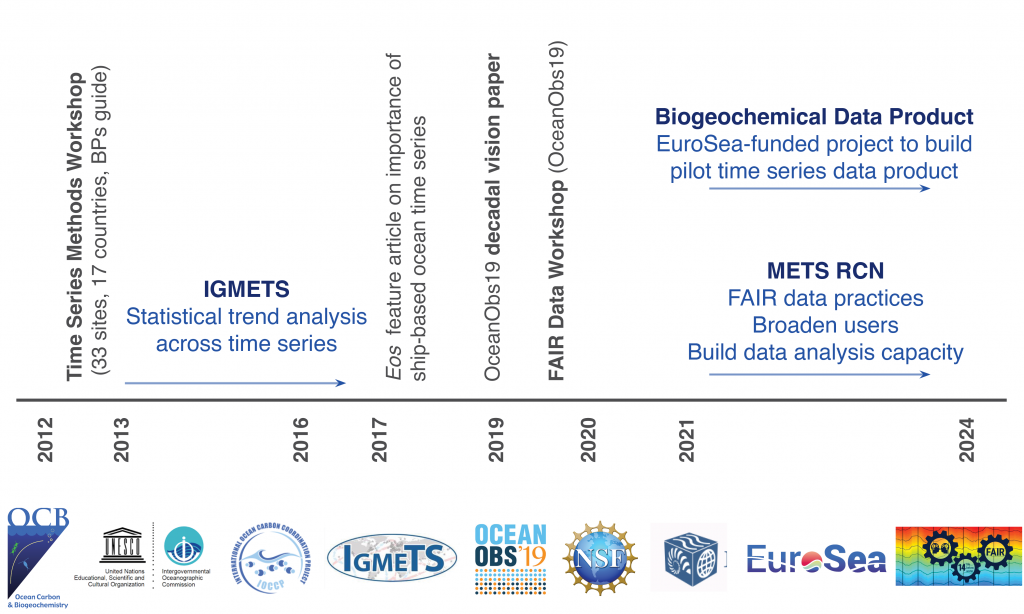 FAIR data solutions - May 9
FAIR data solutions to support a global observing system of marine ecological time series
May 9, 2022 2:00-3:30 pm EDT
Watch the recording: https://youtu.be/4iFM7IAxZHU

This community meeting (a repeat of a recent Ocean Sciences Town Hall Meeting to enable broader participation) to learn more about a new NSF EarthCube-funded Research Coordination Network for Marine Ecological Time Series (METS-RCN) tasked with bringing together members of the oceanographic, data science, and informatics communities to build consensus on key components of a FAIR (Findable, Accessible, Interoperable, Reusable) data model for METS, including common vocabularies, metadata reporting standards, and data citation practices; engage broader METS data users (e.g., modelers, educators, decision makers) to facilitate broader applications of METS data; and build community capacity for METS data analysis, statistical methods, and data-model integration. This town hall meeting will also highlight a concurrent EuroSea-funded project led by members of the RCN leadership team focused on developing a pilot biogeochemical time series data product to help visualize spatial patterns and trends across ocean basins.
MEETING AGENDA
Overview of METS RCN (Heather Benway, OCB/WHOI)
What is FAIR and why do we need it in ocean science? (Adam Shepherd, BCO-DMO)
Shipboard time series use cases
Carbon-relevant biogeochemical EOVs in a time series data product (Nico Lange, GEOMAR)
Hawai'i Ocean Time-series (HOT) parameter mapping to Climate & Forecast (CF) vocabulary (Fernando Carvalho-Pacheco, UH)
ENVRI-FAIR and Intelligent query dissolved oxygen use case (Justin Buck, NOC)
Q&A and open discussion
Dive in to METS RCN activities
About this RCN
The METS RCN will support coordination efforts that bring together different cross-sections of the METS community (data producers, users, scientists, and managers) in large and small group formats to foster the necessary dialogue to develop FAIR data solutions and practices.