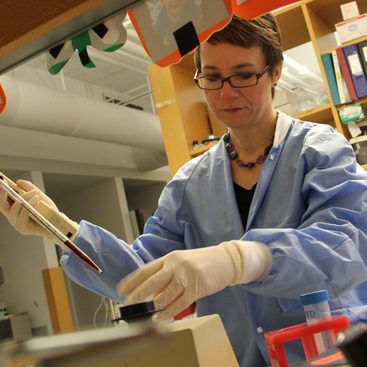 Jennifer Schlezinger
Associate Professor of Environmental Health, Boston University School of Public Health
Guest Investigator, WHOI
In the Schlezinger laboratory, we seek to understand how exposure to environmental contaminants contributes to two pathological conditions, obesity and osteoporosis. The prevalence of each of these conditions is on the rise, and they are each significant health risks. Obesity in the most common chronic disease risk factor in the US. Lifetime risk of suffering a bone fracture increases as the bone quality diminishes. Obesity and osteoporosis may seem like two unrelated conditions, but they are connected by shared biological pathways, pathways that can be exploited by environmental chemicals.
Metabolic disruptors are chemicals that act to control fat tissue development either by acting on the fat cells themselves or by altering food intake and metabolism by acting on the brain, pancreas, liver, gastrointestinal tract and muscle. We study four classes of metabolic disruptors, organotins (food crop fungicides, stabilizers used in plastics), phthalates (agents used to make plastics soft), polycyclic musks (fragrances) and organophosphate flame retardants (chemicals added to furniture foam and nail polish).  We find that these chemicals do not just impact the processes that control metabolic homeostasis, but also bone homeostasis. We want to know how environmental contaminants hijack the proteins that regulate both metabolic and bone homeostasis, proteins called nuclear receptors. By defining how these chemicals override naturally occurring cellular processes, we will enhance our understanding of how these chemicals stimulate obesity and osteoporosis, with the ultimate goal being to reduce the risk of developing metabolic disease and suffering life-altering bone fractures.
We use three types of models to study the hypothesis that early life exposures to environmental pollutants can deregulate bone and fat tissue homeostasis over a life time. We use mammalian cell culture, an in vivo mouse model, and an in vivo zebrafish model. We collaborate with the Hahn and Stegeman laboratories at WHOI, using zebrafish to investigate chemical mechanisms of action in a whole animal model.
View External Profile
Email: jschlezi@bu.edu
Phone: 617.358.1708