Teaching
I love sharing environmental chemistry with science students of all ages! Prior to starting my PhD, I worked full-time as a chemistry lab instructor at Bowdoin College. I have since taught guest classes (virtually and in-person) at Cape Cod Community College, SEA Semester, Mullen Hall Elementary School, Zephyr Marine, and more, in addition to mentoring students in the Ward Lab at WHOI.
Recently, I was awarded an MIT Teaching Development Fellowship to create programming aimed at improving graduate student teaching skills in my department. I am excited to work with my classmates learn and grow together as teachers!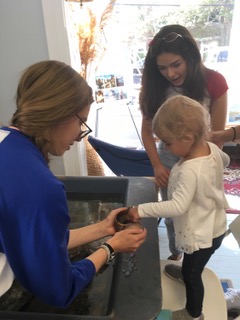 Outreach and Equity
My job as a teacher includes supporting students of all backgrounds and identities, and providing access for students who may not have grown up thinking of environmental science as a field "for them." I was a founding member and contributor to the MIT-WHOI Joint Program's student-run newsletter, Through the porthole, which provides information about life in grad school in the geosciences and practical tips for grad school applications. Learn more about this project here.
Science, writing, & literature
Facing our world's environmental challenges requires good-quality information about risks from good-quality science. It also requires us to explore new ways of thinking about the human relationship with the environment. This exploration is the realm of art and literature. As a scientist who has also always enjoyed writing, I dabble in this kind of exploration in my blog and in Jelly Talk (non-science, student-led seminar series at WHOI) conversations with fellow geosciences grad students. My previous Jelly Talks have explored environmental thought in literature as diverse as One Hundred Years of Solitude and Hamlet.