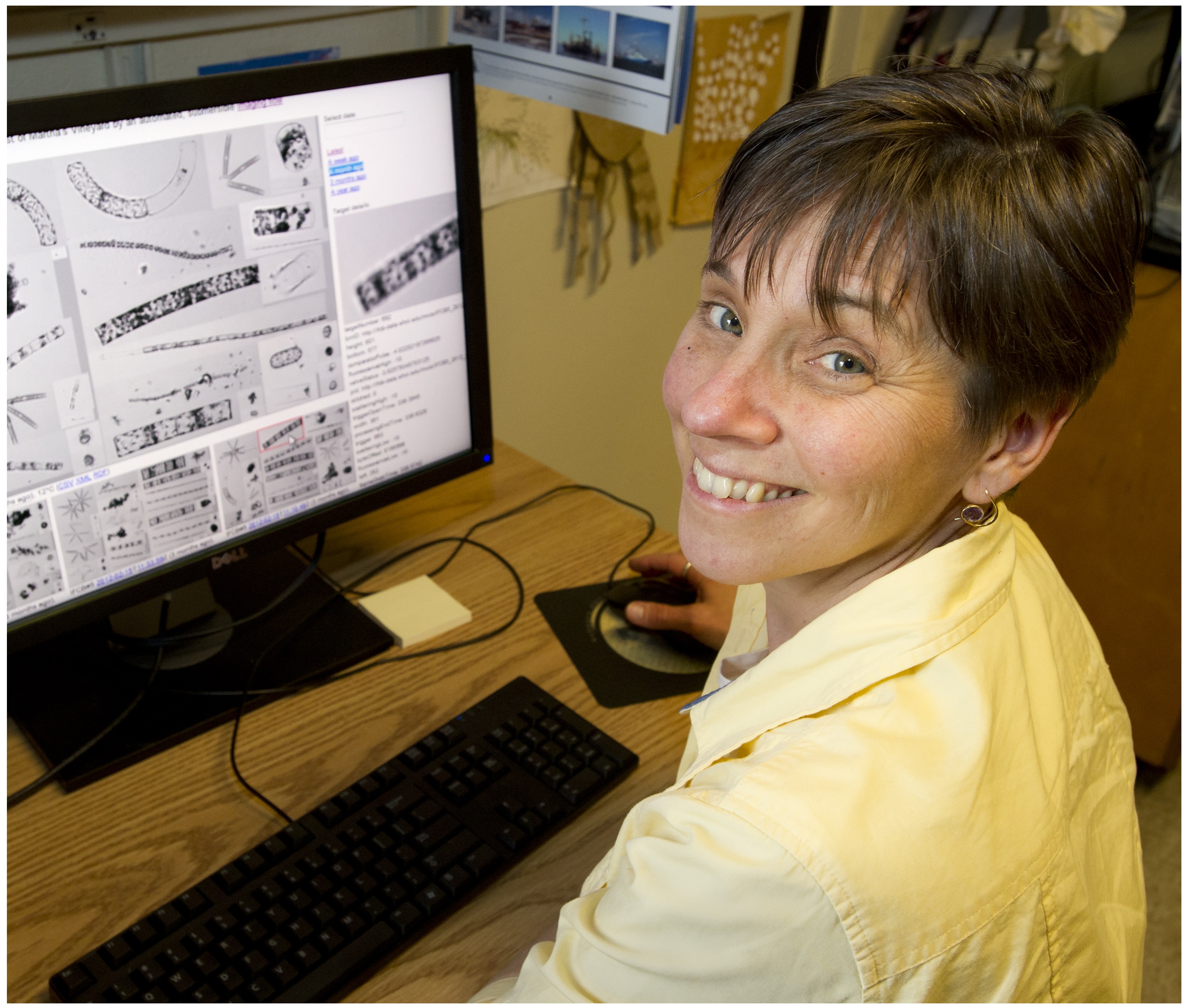 Dr. Heidi Sosik
Senior Scientist
Biology Department

Download CV
Contact Information:
hsosik@whoi.edu
Building: Redfield 3-16
Work: 508-289-2311
Fax: 508-457-2134
Mailing Address:
Woods Hole Oceanographic Institution
266 Woods Hole Rd, MS#32
Woods Hole, MA 02543
Research Interests
Phytoplankton ecology and photophysiology
Bio-optical oceanography
Modeling of marine primary production
Physical forcing and regulation of phytoplankton biomass and production
Fluorescence-based assays for photosynthetic properties
Relationships between phytoplankton and water column optical properties
Scaling from single cells to global systems
Remote sensing of phytoplankton
Instrument development and observing systems
Awards
CINAR Fellowship in in Quantitative Fisheries and Ecosystem Science, 2016.
Arons Award for Excellence in Teaching, Advising and Mentoring, 2015.
WHOI Senior Scientist Leadership Prize, 2013.
NASA Agency Honor Award / Group Achievement, ICESCAPE Team, 2012.
WHOI Coastal Ocean Institute / Ocean Life Institute Fellow, 2003.
ONR Young Investigator Program Award, 1997.
Presidential Early Career Award for Scientists and Engineers, 1996.
NASA New Investigator Program Award, 1996.
DOE Global Change Distinguished Postdoctoral Fellowship, 1994.
Who's Who Among Students in AmericanUniversities and Colleges, 1994.
Woods Hole Oceanographic Institution Postdoctoral Scholar Award, 1993.
ONR Student Oceanography Award, 1993.
NASA Graduate Student Researchers Program Award, 1991.
NSF Graduate Fellowship, 1988.
Woods Hole Oceanographic Institution Summer Student Fellowship, 1986.
Sea Grant Fellowship for Undergraduate Research, 1986.
National Merit Scholar, 1983.
Lab Members
E. Taylor Crockford - Research Assistant
Emily Peacock - Research Associate
Alexi Shalapyonok - Research Associate
Bennett Lambert - Joint Program Student
Kevin Archibald - Joint Program Student
Former Lab Members
Emily Brownlee (2010-2017)
Kristen Hunter-Cevera (2009-2015)
Samuel Laney (2006-2009)
Linda Martin Traykovski (2003-2009)
Melissa Patrician (2006-2008)
Brittan Rabinovitch (Hlista) (2002-2007)
Michele DuRand (1995 - 2004)
Ru Morrison (1999 - 2004)
Rebecca Green (1996 - 2002)
Welkin Pope (2000 - 2001)
Summer Student Fellows & Guest Students
Craig Dawes (2017)
Matthew Ball (2016)
Sasha Kramer (2015)
Jessica Sandoval (2014)
Anna Nisi (2013)
Marco Bellacicco (2013)
Yolimar Rivera Vazquez (2012)
Emily Moberg (2010)
Emiliy Brownlee (2009)
Kacie Li (2005)
Sarah Srodulski (2004)
Elise  Zipkin (2003)
Erdem Karakoylu (2000)
Danielle Harvey (1999)
Diane Poehls (1999)
Amy Apprill (1999)
Ashwini Deshpande (1997-1998)
Benjamin Halpern (1995, 1997)