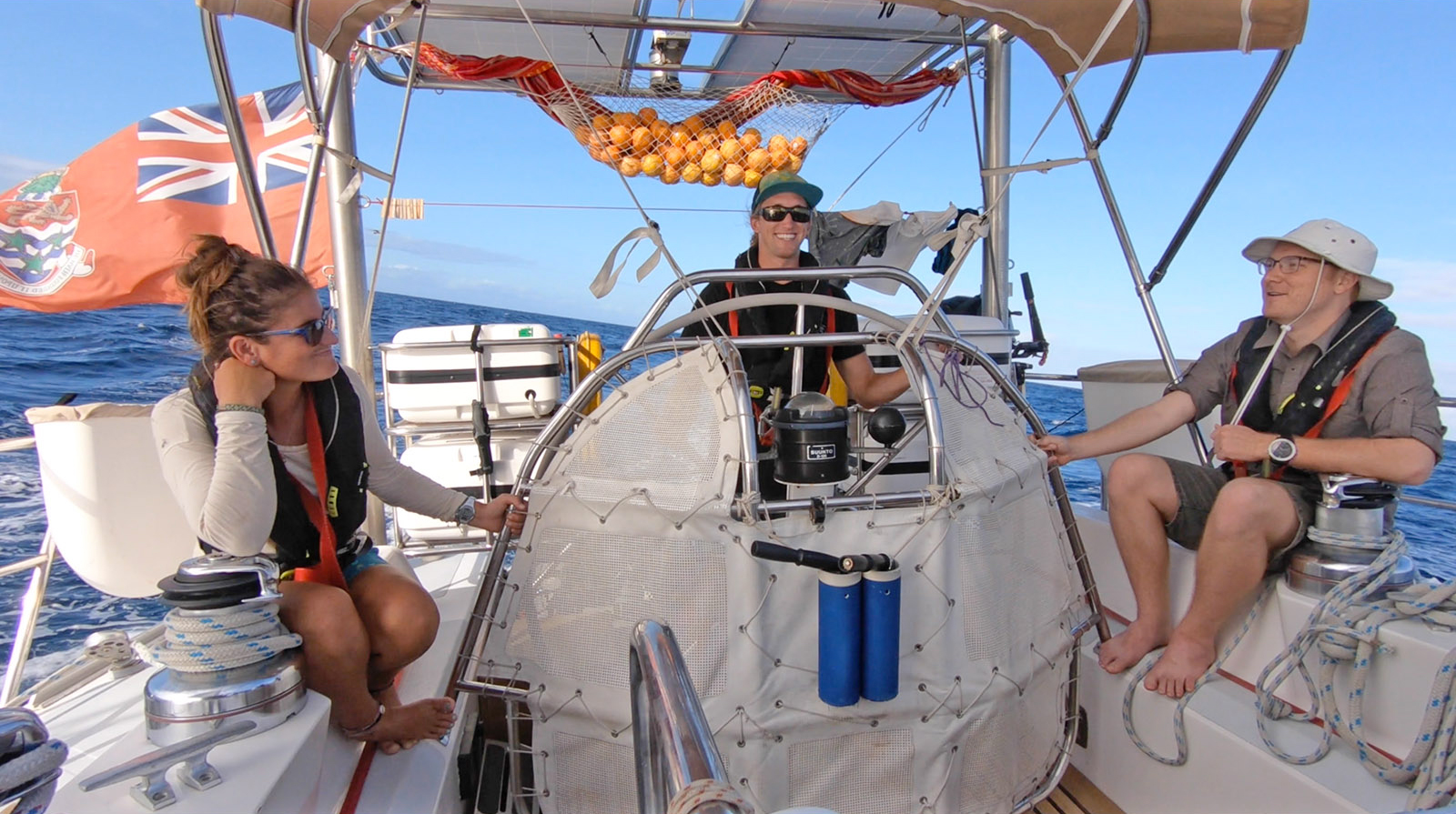 There was something different about the ocean this morning. On the first watch we noticed more birds than we've become accustomed to over the past five days. There was increased activity in the water, too—more flying fish, larger fish jumping, and flocks of bird feasting on schools of baitfish. We must be getting close to land.
Since departing Kanton, the nine of us on Sea Dragon have sailed 880 nautical miles across the heart of the Central Pacific and only spotted one ship during our crossing. And we haven't been very successful at catching fish. This vast swath of ocean truly is "the middle of nowhere," but for the first time, Kanton has appeared on the chart plotter and we are less than 20 miles from our destination.
The science crew has adapted to life onboard and we've become proficient crewmembers, as well. But perhaps most importantly, we have also become proficient nappers. In order to safely sail Sea Dragon around the clock, our crew of nine has been split into three watch groups that share the cooking, sailing, and maintenance duties. We operate on a rotating watch schedule of four hours on, eight hours off. This means that we've learned to catch up on sleep in between watches and at any time of day or night, but it also means that we have the opportunity to immerse ourselves in the beauty and solitude of the open ocean.
Each watch has its own unique perks and we get to experience a different set of watches every day. For example, the watch from 8:00 p.m. to midnight has a chance to do some of the best stargazing on the planet; the midnight to 4:00 a.m. watch gets to see the moonrise, and the morning watch from 4:00 to 8:00 a.m. has a front row seat to stunning sunrises.
There is one time of day, however, that the whole crew makes sure to take a few minutes to relax, talk story, and laugh together—sunset. Each night at 6:00 p.m., we have dinner on deck while the autopilot takes over the helm for a few minutes. After dinner, we eagerly watch for the elusive green flash as the sun sinks below the horizon and signals the first watch of the evening.
Our crew has a diverse background of sailing, science, and natural history. Collectively, we represent three countries (U.S., U.K., and Canada). During our crossing to Kanton we've learned new slang words, new recipes, and new perspectives from each other and become an oceanic family of sorts.
As we ready the boat for our arrival to Kanton, we are looking forward to adding a new member to our family that can share with us the rich natural history and cultural heritage of the Phoenix Islands and Kiribati. And while our Pacific crossing has been an experience of a lifetime, I know the science crew is looking forward to doing some diving and getting to work on the coral reefs of PIPA.