Are you considering coming to WHOI as a postdoc? Here we outline the different types of postdocs at WHOI, and provide some statistics on postdoc funding sources.
Types of Postdocs at WHOI:
Scholar - Eighteen-month Postdoctoral Scholar awards are offered annually to recipients of new or recent doctorates in the fields of chemistry, engineering, geology, geophysics, mathematics, meteorology, physics, and biology as well as oceanography. The competitive awards are designed to further the education and training of the applicant with primary emphasis placed on the individual's research promise. Apply here!
Investigator - Postdoctoral Investigators are typically required to conduct research and studies in areas directly relevant to existing grants or contracts. Postdoctoral Investigator appointments are usually initially for one year, renewable for an additional year up to a maximum of four years of WHOI only, or five years of combined postdoctoral level experience.
Fellow - Postdoctoral Fellows may be appointed in two types of categories: Postdoctoral Scholar Fellows supported by Institution scholarship funds, or Postdoctoral Fellows who have been competitively awarded national or international postdoctoral fellowships. Postdoctoral Fellows undertake independent research in collaboration with their advisor(s).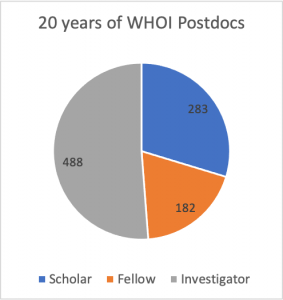 Below is a breakdown of the most common Postdoctoral Fellowships over the past ~25 years