Postdoctoral Scholars & Investigators
Postdoctoral Investigator
Research Interests: Sensor development, fluorescence, chemical sensing, optical sensing, interferometry, active fluorometry, primary productivity, autonomous deployment, correlative imaging, nanomaterials, marine chemistry, deep submergence.
Contact: mary.burkitt-gray@whoi.edu
Postdoctoral Scholar
Research Interests: Dynamics of planetary ices; floating ice shelves and ice sheets on Earth and ice shells of icy moons; ice-ocean interactions; ocean world science and Earth analogues; ocean world habitability; cryohydrologic systems; remote sensing methods; numerical models.
Contact: chase.chivers@whoi.edu
Postdoctoral Investigator
Research Interests: Microplastics, instrument development, oceanographic engineering, spectroscopy, dissolved gases.
Contact: bcolson@whoi.edu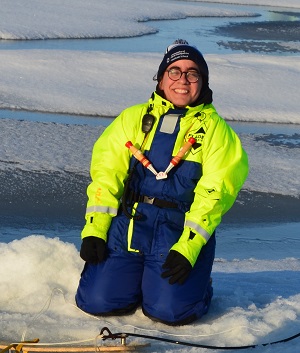 Postdoctoral Scholar
Research Interests: Fate and transport of methane gas bubbles released from the seafloor; understanding how physical properties of gas bubbles (e.g., shape, size, surface coating, etc.) affect the scattering of sound and the dissolution process of gas bubbles in liquid mediums through laboratory experimentation, field work, and sensor development.
Contact: alexandra.padilla@whoi.edu