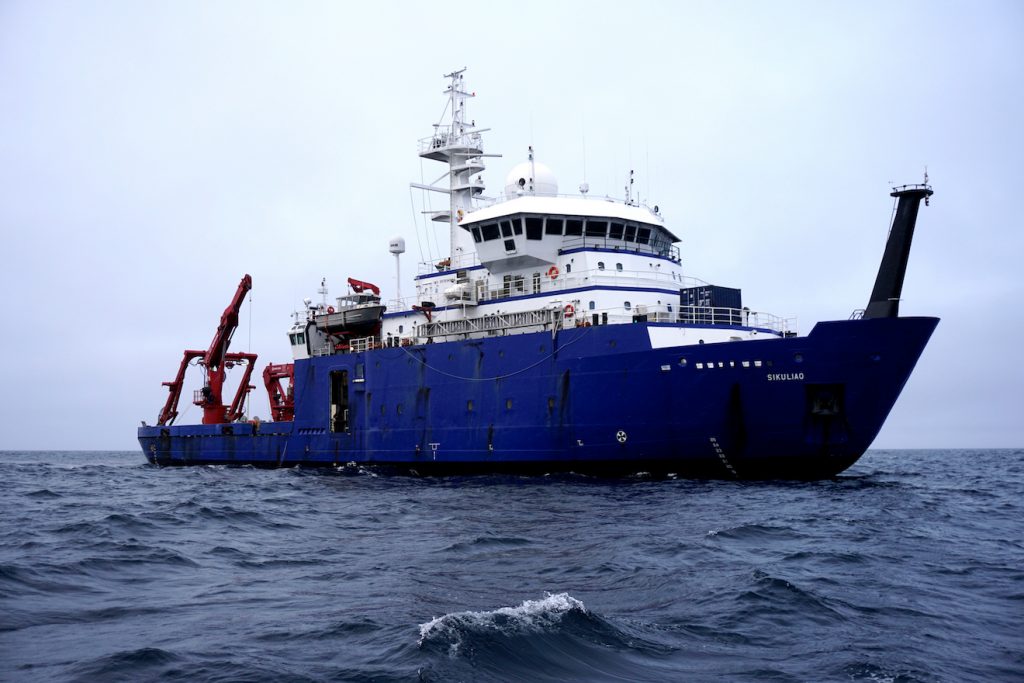 The 261-foot R/V Sikuliaq is one of the most advanced university research vessels in the world, capable of breaking ice up to 2.5 feet thick.
Pronounced [see-KOO-lee-auk], the vessel is owned by the National Science Foundation and operated by the College of Fisheries and Ocean Sciences at the University of Alaska Fairbanks, as part of the U.S. academic research fleet. It is used by scientists in the U.S. and international oceanographic community through the University-National Oceanographic Laboratory System. .
Sikuliaq can accommodate up to 24 scientists and students per cruise, including those with disabilities.  It was designed for multidisciplinary studies and to facilitate broadband real-time virtual participation of classroom students in expeditions, including remotely operated underwater vehicles. The ship supports the collection of sediment samples from the seafloor, remotely operated vehicles, has a suite of winches to raise and lower scientific equipment. The vessel is designed to have the lowest possible environmental impact, including a low underwater radiated noise signature for marine mammal and fisheries work.