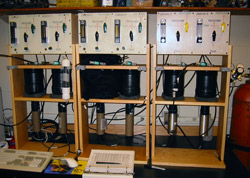 Short-lived Radium
We maintain a delayed coincidence counting system that is used for the quantifying the short lived radium isotopes (223Ra and 224Ra).  Samples are adsorbed onto a manganese fiber and then counted using the delayed coincidence system.  Samples are then ashed and counted in one of our coaxial gamma detectors for long lived radium isotopes (226Ra and 228Ra).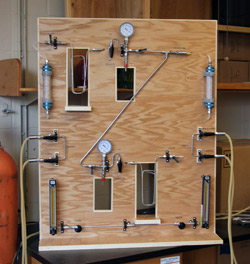 Radon-222
We have the capability of collecting and analyzing for Radon a number of ways. The standard radon extraction method; using helium and liquid nitrogen to isolate the radon in a cold trap. Then transferring it to a Lucas cell and counting it using a photomultiplier tube detector (PMT).
We currently have 2 extraction ports and approximately 6 PMT's.  The dual radon counting system, model AC/DC-DRC-MK-10-2, shown below was made for us by Robert Lupton of Applied Techniques Co.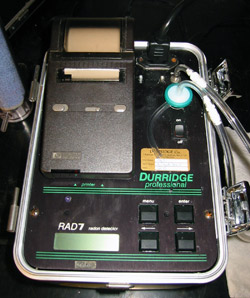 Radon-222
More recently we have been using the Durridge RAD 7 electronic radon detector to measure radon in water and air. This instrument has made our analysis of radon much quicker, and more accurate. We have also been using this system to make real time in situ radon measurements.